Happy New Year! Goodbye 2020 and hello 2021! Now we are all very much aware of the crazy, not so good things that happened last year but what about the good things? Even the smallest thing can be seen as a positive, as an achievement.
Looking back on 2020 I can say I had at least a few positive things go my way. I was able to publish my fantasy themed coloring book. Despite the pandemic causing all of my events to be canceled I still met all of my business goals and I was hired to illustrate not one, not two, but three children's books. All three children's books can be found on Amazon and my coloring book can be found here on my website. :D
Over the month of December I was able to finish illustrating the third children's book I was hired to do. It had a really tight deadline so it was nice to finally be able to relax a bit and destress when it was done. After finishing the book I designed an adorable little greeting card of a hedgehog, created a new scene of Reggie the raccoon and started a random, little three piece illustration project. The illustration project is still a work in progress. I even started painting my office and designed the fantasy themed coloring page for my Patrons on Patreon.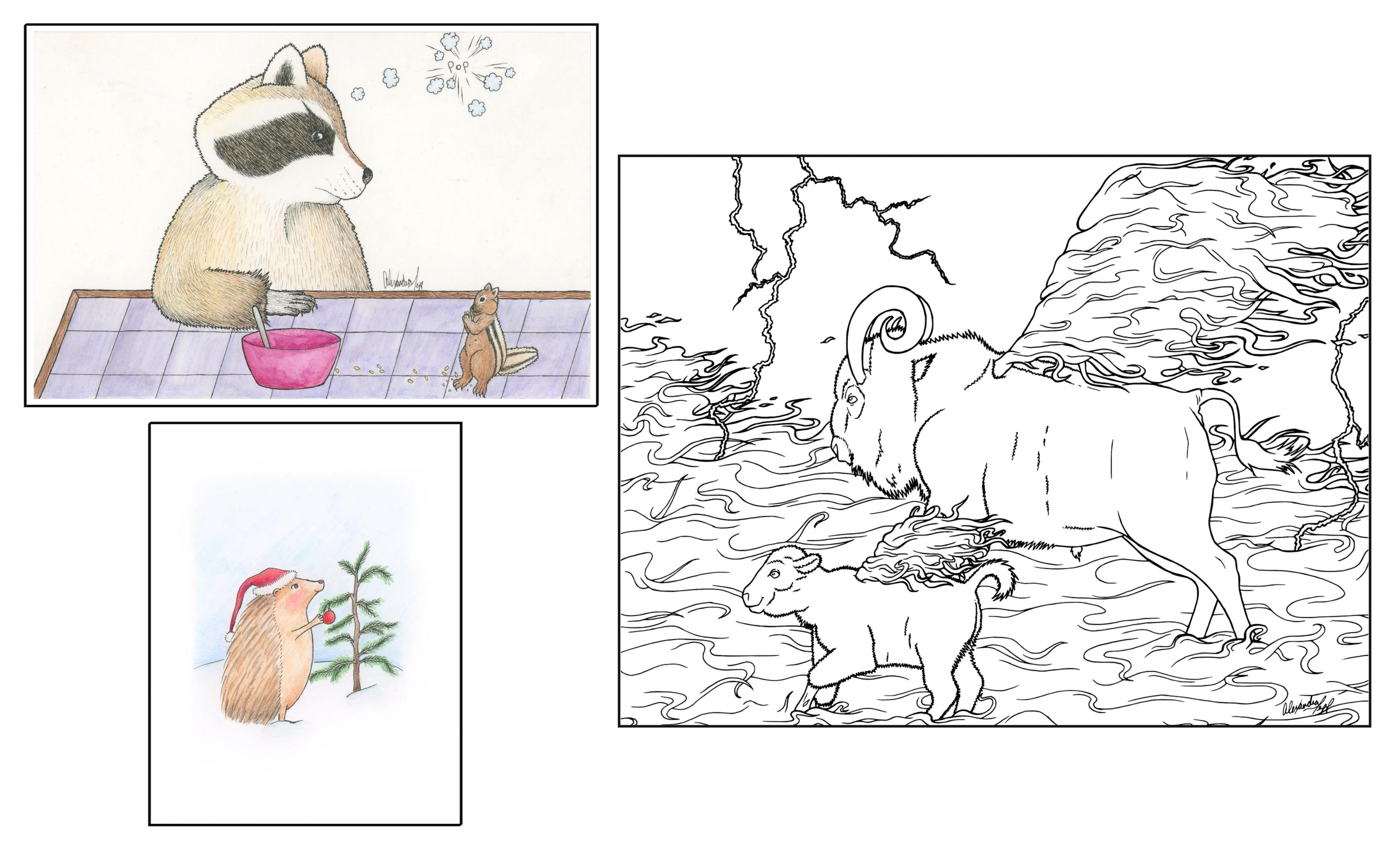 Outside of my business I started reading again; I haven't been able to read in FOREVER. I got back in to playing sudoku and also did some baking and cooking. I made some delicious sugar cookies, peanut butter cookies and caramel corn for the holidays. I'm still finishing off the caramel corn. :) For Christmas dinner I made Vietnamese fried spring rolls, crab rangoon and Filipino pancit. Everything was absolutely delicious and I ate way too much. :)
Now as excited as I may be for 2021 (I'm tentatively optimistic) I know that the new year doesn't mean POOF! the spell is broken and everything is all better. 2021 is still going to be hell but hopefully the hell we experience is just dealing with everything 2020 has already thrown our way. Hopefully (fingers crossed) 2021 doesn't throw any new crap our way.
I have lots of big plans for my business this year. It's just a matter of following through and keeping up with everything. I'm keeping my fingers crossed I can do it. :)
This month my focus is to update my website and go through my greeting card collection and decide what cards will be getting discontinued. I also get to start illustrating a new children's book for a client. I'll be illustrating a coloring page for my patrons on Patreon of course. I also plan to continue Reggie's story with 2 new illustrations. Sounds easy right? XD Wish me luck! I hope everyone had a happy new year and I wish you all a fantastic 2021.